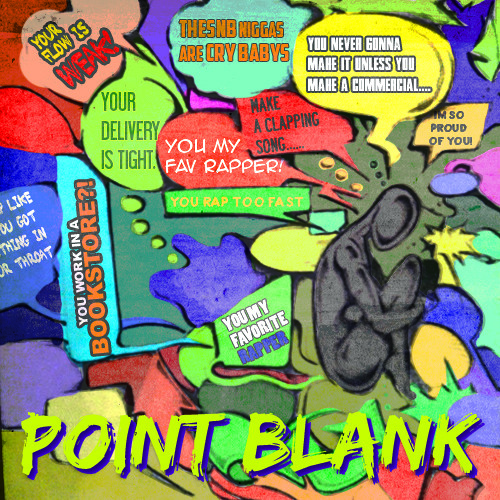 If it's one thing I like in music it is honesty, I'm always impressed when artists are able to be real with themselves in their music. Just about 40 seconds into
Point Blank
Johny Locus
did just that "Me style on that second tape, my third tape a mistake". Since we're being honest I feel just like that. I was introduced to Johny through his second tape
Something To Listen To
at that point he had only been rapping a few months but he showed real promise. After sometime he dropped the follow up
Music Speaks Louder Than Lyrics
and if you read the write up for STLT I was excited to see how Johny would progress. To my disappointment it was as if he abandoned everything that worked on his first tape and regressed in skill. I didn't even bother posting it, don't get me wrong Johny is the homie but I couldn't support that. I'm just glad that Johny himself realized that long before it was too late.
Getting to Point Blank itself I'll start off by simply stating it is one of my personal favorite indie tapes this year. Johny likes to call himself "SNB's Finest" but he is more like SNB's Best Kept Secret. Steezy and Rashad tend to receive the most shine but Johny is definitely the most talented rapper out of the entire SNB. No disrespect intended. Throughout the entire tape he continually impressed me with his improved lyricism, delivery and subject matter. Which is a bit more mature than his SNB counterparts as well and a welcomed addition to his repertoire. For the most part all the tracks worked for me aside from lacking guest verses/poor sound quality but that is mostly due to the guest and not Johny. The only track I didn't care for is "Comparisons" which felt unneeded and overly aggressive compared to the rest of the tape's mellow sound.
Another strong point was the production featured on the tape. Johny did well in picking beats that fit him and his style well. The sound clips spread throughout the tape also did well in breaking up the monogamy that a lot of projects suffer from just going from song to song without a pause or interlude.
All together Point Blank is a good start at getting back on the right track for Johny. I feel like if he can prove to be consistent and delivers with his next project, he'll start to get some of the shine he deserves. After showing that initial promise and then the unfortunate decline, it seems Johny is back and on the way up.
FINAL VERDICT
+ Sharp lyricism & wordplay
+ Good production
+ Subject matter
+ Improvement over last projects
- Hit or miss features
- "Comparisons"
- Sound quality lacking on certain tracks
8/10